Morning Prayer Tuesday, 14 September 2021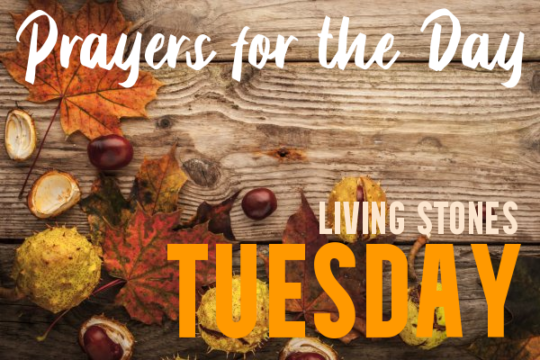 THERE WILL COME SOFT RAINS
by Sara Teasdale
There will come soft rains and the smell of the ground,
And swallows circling with their shimmering sound;
And frogs in the pools singing at night,
And wild plum trees in tremulous white;
Robins will wear their feathery fire,
Whistling their whims on a low fence-wire;
And not one will know of the war, not one
Will care at last when it is done.
Not one would mind, neither bird nor tree,
If mankind perished utterly;
And Spring herself, when she woke at dawn
Would scarcely know that we were gone.
Good morning and welcome to Morning Prayer
The night has passed, and the day lies open before us;
let us pray with one heart and mind.
Silence is kept.
As we rejoice in the gift of this new day,
so may the light of your presence, O God,
set our hearts on fire with love for you;
now and for ever.
Amen.
Breathe in
Breathe out
Be still…
I arise today,
embraced in the arms
of God the Father,
empowered by the strength
of God the Spirit,
immersed in the love
of God the Son.
I arise today
in the company
of the Trinity,
Father, Spirit and Son.
I arise today
Amen
Presence
"I stand at the door and knock," says the Lord.
What a wonderful privilege that the Lord of all
creation desires to come to me.
I welcome His presence.
Freedom
Lord, guide me always
to do your holy will
knowing that your strength
will carry me through.
Consciousness
Conscious of your presence, Lord,
I look over my recent past.
Let me be honest with myself about how I've been
And what I've done,
Because I know you love truth in the heart
And accept me just as I am
THE WORD OF GOD
Luke 6:39-42
Jesus also told them a parable: "Can a blind person guide a blind person? Will not both fall into a pit? A disciple is not above the teacher, but everyone who is fully qualified will be like the teacher. Why do you see the speck in your neighbour's eye, but do not notice the log in your own eye? Or how can you say to your neighbour, 'Friend, let me take out the speck in your eye,' when you yourself do not see the log in your own eye? You hypocrite, first take the log out of your own eye, and then you will see clearly to take the speck out of your neighbour's eye."
WORDS OF WISDOM
The shape of creation must somehow mirror and reveal the shape of the Creator. We must have a God at least as big as the universe. Otherwise, our view of God becomes irrelevant, constricted, and more harmful than helpful. The Christian image of a torturous hell and God as a petty tyrant has not helped us to know, trust, or love God—or anything else. If we understand God as Trinity—the fountain fullness of outflowing love, and relationship itself—there is no theological possibility of any hatred or vengeance in God.
Divinity, which is revealed as Love Itself, will always eventually win. God does not lose (see John 6:37-39). We are all saved by mercy. This is an orthodox opinion! In his book Introduction to Christianity, Pope Benedict XVI explains his understanding of the curious phrase in the middle of the Apostles' Creed: "[Jesus] descended into hell." Benedict says that since Christ went into hell, that means hell "is hell no longer . . . because love dwells in it."  Jesus Christ and hell cannot coexist; once Jesus got there, the whole game of punishment was over, as it were. A basic principle of nonviolence is that we cannot achieve good by doing bad.
If this is true, any notion of an actual "geographic" hell or purgatory is unnecessary and, in my opinion, destructive of the very restorative notion of the whole Gospel. Pope John Paul II, who certainly was not a liberal, reminded listeners that heaven and hell are not physical places at all. They are states of being in which we dwell either in a loving relationship with God or one of separation from the source of all life and joy.  If that's true, there are plenty of people on earth who are in both heaven and hell right now.
Heaven is not about belonging to the right group or following the correct rituals. It's about having the right attitude toward existence. There are just as many Muslims, Buddhists, Hindus, and Jews who live in love—serving their neighbor and the poor—as there are Christians. Jesus says there will be deep regret—"wailing and grinding of teeth" (Luke 13:28)—when we realize how wrong we were. Be prepared to be surprised about who is living a life of love and service and who isn't. This should keep us all humble and recognizing it's not even any of our business who's going to heaven. What makes us think that our little minds and hearts could discern the mind and heart of anyone else?
Further, Jesus never really taught "the immortality of the soul" as we understand it. That was Plato. Jesus taught the immortality of love. If we have never really loved anyone or anything, I doubt we are at all capable of eternity. We simply die. A torture chamber was an unfortunate metaphor to keep people from never loving, trusting, or hoping. I am not sure it ever really worked because you cannot threaten people into love.
Fr Richard Rohr
https://cac.org/choosing-heaven-now-2021-09-13/
Copyright © 2021 by CAC. Used by permission of CAC. All rights reserved worldwide.
PRAYERS & INTERCESSIONS
We pray for the world…
Lord, in your mercy
hear our prayer.
We pray for the universal church of Christ…
Lord, in your mercy
hear our prayer.
We pray for one another and all those known to us…
Lord, in your mercy
hear our prayer.
The Lord's Prayer
As our Saviour taught us, so we pray
Our Father in heaven,
hallowed be your name,
your kingdom come,
your will be done,
on earth as in heaven.
Give us today our daily bread.
Forgive us our sins
as we forgive those who sin against us.
Lead us not into temptation
but deliver us from evil.
For the kingdom, the power,
and the glory are yours
now and for ever.
Amen.
May God the Father
prepare your journey,
Jesus the Son
guide your footsteps,
The Spirit of Life
strengthen your body,
The Three in One
watch over you,
on every road
that you may follow.
Amen
THE BLESSING
May your day be blessed
by moments of quietness,
light in your darkness,
strength in your weakness,
grace in your meekness,
joy in your gladness,
peace in your stillness.
May your day be blessed
AMEN
Thank you for join us…have a wonderful day!
Revd. Ernesto Lozada-Uzuriaga