Morning Prayer Monday, 13 September 2021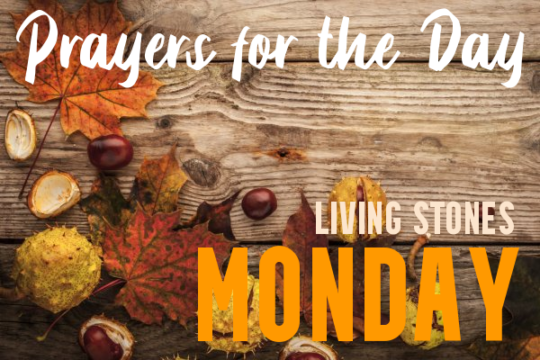 On traveling to beautiful places
by Mary Oliver
Every day I'm still looking for God
and I'm still finding him everywhere,
in the dust, in the flowerbeds.
Certainly in the oceans,
In the islands that lay in the distance
Continents of ice, countries of sand
Each with its own set of creatures
And God, by whatever name.
How perfect to be aboard a ship with
Maybe a hundred years still in my pocket.
But it's late, for all of us,
And in truth the only ship there is
Is the ship we are all on
Burning the world as we go.
Good morning and welcome to Morning Prayer
The night has passed, and the day lies open before us;
let us pray with one heart and mind.
Silence is kept.
As we rejoice in the gift of this new day,
so may the light of your presence,
O God, set our hearts on fire with love for you;
now and for ever.
Amen.
Breathe in
Breathe out
Be still…
Spirit of Truth
who reveals to us
the things of God we praise your name.
Spirit of Wisdom
who inspires the words
we ought to speak we praise your name.
Spirit of Power
who grants the courage
we need to act we praise your name.
Spirit of Love
who knows our nature and
loves us still we praise your name.
Amen
Presence
Let my heart rejoice and be glad
in this time of prayer.
Remind me often of the great
blessings You have bestowed on me.
Freedom
What most often stops me achieving freedom is my tendency
to be caught up in fears and expectations
about what I 'ought' or 'should' be.
My usual automatic responses tie me down
and inhibit me from exploring new areas of growth.
I ask and pray for a greater sense of inner freedom and
that I might reach the fresh and challenging possibilities
that God wishes me to realise.
Consciousness
Where do I sense hope, encouragement, and growth areas in my life? By looking back over the last few months, I may be able to see which activities and occasions have produced rich fruit.  If I do notice such areas, I will determine to give those areas both time and space in the future.
THE WORD OF GOD
Psalm 3:8
Deliverance belongs to the Lord; may your blessing be on your people!
Proverbs 10:22
The blessing of the Lord makes rich, and he adds no sorrow with it.
Romans 15:2
Each of us must please our neighbour for the good purpose of building up the neighbour.
WORD OF WISDOM
Your image of God creates you. This is why it is important that we see God as loving and benevolent and why good theology still matters. One mistaken image of God that keeps us from receiving grace is the idea that God is a cruel tyrant. People who have been raised in an atmosphere of threats of punishment and promises of reward are programmed to operate with this cheap image of a punitive God. It usually becomes their entire view of the universe.
Unfortunately, it's much easier to organize people around fear and hatred than around love. Powerful people prefer this worldview because it validates their use of intimidation—which is quite effective in the short run! Both Catholicism and Protestantism have used the threat of eternal hellfire to form Christians. I am often struck by the irrational anger of many people when they hear that someone does not believe in hell. You cannot "believe" in hell. Biblical "belief" is simply to trust and have confidence in the goodness of God or reality and cannot imply some notion of anger, wrath, or hopelessness at the center of all that is. Otherwise, we live in a toxic and unsafe universe, which many do.
In his book Inventing Hell, Jon Sweeney points out that our Christian view of hell largely comes from several unfortunate metaphors in Matthew's Gospel.  Hell is not found in the Pentateuch, the first five books of the Bible. It's not found in the Gospel of John or in Paul's letters. The words Sheol and Gehenna are used in Matthew, but they have nothing to do with the later medieval notion of eternal punishment. Sheol is simply the place of the dead, a sort of limbo where humans await the final judgment when God will finally win. Gehenna was both the garbage dump outside of Jerusalem—the Valley of Hinnom—and an early Jewish metaphor for evil (Isaiah 66:24). The idea of hell as we most commonly view it came much more from Dante's Inferno than the Bible. Believe me on that. It is the very backdrop of Michelangelo's Sistine Chapel. It makes for good art, I suppose, but it's horrible, dualistic theology. This is not Jesus, "meek and humble of heart," which is his self-description in life (Matthew 11:29). We end up with two different and opposing Jesuses: one before Resurrection (healing) and one after Resurrection (dangerous and damning).
Jesus tells us to love our enemies (Matthew 5:44), but the punitive god sure doesn't. Jesus tells us to forgive "seventy times seven" times (Matthew 18:22), but this other god doesn't. Instead, this other god burns people for all eternity. Many of us were raised to believe this, but we usually had to repress this bad theology into our unconscious because it's literally unthinkable. Most humans are more loving and forgiving than such a god, but we can't be more loving than God. It's not possible. This "god" is not God!
Fr. Richard Rohr
https://cac.org/god-is-good-2021-09-12/
Copyright © 2021 by CAC. Used by permission of CAC. All rights reserved worldwide.
PRAYERS AND INTERCESSIONS
We pray for the world…
Lord, in your mercy
hear our prayer.
We pray for the universal church of Christ…
Lord, in your mercy
hear our prayer.
We pray for one another and all those known to us…
Lord, in your mercy
hear our prayer.
THE LORD'S PRAYER
As our Saviour taught us, so we pray
Our Father in heaven, hallowed be your name,
your kingdom come, your will be done, on earth as in heaven.
Give us today our daily bread.
Forgive us our sins as we forgive those who sin against us.
Lead us not into temptation but deliver us from evil.
For the kingdom, the power,
and the glory are yours now and for ever.
Amen.
Silence…
May God the provider of green pastures and
quiet waters be the peace in our hearts today
May Jesus our guide on mountain top and valley
deep be the hope in our hearts today
May the Spirit of truth and knowledge
comforter and friend be the strength in our hearts today
Amen
THE BLESSING
May the beauty of God be reflected in your eyes,
the love of God be reflected in your hands,
the wisdom of God be reflected in your words,
and the knowledge of God flow from your heart,
that all might see, and seeing, believe
Amen
Thank you for join us. Have a wonderful day!
Revd. Ernesto Lozada-Uzuriaga