Daily Prayers Wednesday, 15 June 2022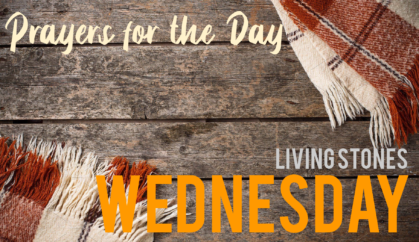 Good morning Cornerstone friends. Today can offer us wonderful opportunities of sunshine and joy.
Do not be put off by the world news.
Psalm 31 verses 21 – 24
Blessed be the Lord! For he has shown me his steadfast love when I was a city besieged.
I had said in my alarm, 'I have been cut off from the sight of your eyes.'
Nevertheless you heard the voice of my prayer when I cried out to you.
Love the Lord all you his servants; for the Lord protects the faithful, but repays in full the proud.
Be strong and let your heart take courage, all you who wait in hope for the Lord.
Lord Jesus Christ, when scorn and shame besiege us and hope is veiled in grief,
hold us in your wounded hands and make you face shine on us again, for you are our Lord and God.
Amen.
St Matthew Chapter 6 verses 1-6 and 16 -18
Giving alms
Beware of practising your piety before others in order to be seen by them; for then you have no reward from your Father in heaven. So whenever you give alms do not sound a trumpet before you, as the hypocrites do in the synagogues and in the streets, so that they may be praised by others. Truly I tell you, they have received their reward. But when you give alms, do not let your left hand know what your right hand is doing, so that your alms may be done in secret; and your Father who sees in secret will reward you
Concerning prayer
And when you pray, do not be like the hypocrites, for they love to stand and pray in the synagogues and at the street corners, so that they may be seen by others. Truly I tell you, they have received their reward. But whenever you pray, go into your room and shut the door and pray to your Father who is in secret, and your Father who is in secret will reward you.
Concerning fasting
And whenever you fast do not look dismal, like the hypocrites, for they disfigure their faces so as to show others that they are fasting, Truly I tell you they have received their reward. But when you fast, put oil on your head and wash your face, so that your fasting may be seen not by others but by your Father who is in secret; and your father who sees in secret will reward you.
---
I recall that this reading was used at this time last year when I commented that the verses left out of the gospel passage are the important verses setting out what we now call, 'The Lord's Prayer'. Chapter 6 of Matthew gives information on the guidance Jesus gave his disciples before they set out on their ministry to the towns of Galilee. It is an instruction to us as well in what it means to be a disciple in our time. Basic training maybe… but challenging stuff!
The message on all of the elements of behaviour seems to be, 'do not worry what people will think of you, do the right thing quietly and offer that to God'. This time of Pentecost is a good time to think about where the Holy Spirit is leading us. We heard a very clear message from Canon Helen Cameron on Pentecost Sunday that this is not just to feel good about ourselves but to witness the love of God to the world. She told us to ask the question, "What do people see when they meet us both individually and as a body of Christians?" Do they see the Spirit of Christ reflected or do they see something that seems unnecessary to their lives.
Christ the Cornerstone has pledged to be an 'Oasis of Hope' in Central Milton Keynes and Campbell Park.
The Psalm has the message, 'Be strong and let your heart take courage' so let us pray that we will reflect the Spirit of Christ to all who we encounter. Let us pray that we move to enable us to meet many more people who live or make their livelihood in Central Milton Keynes and Campbell Park.
Last Sunday our friend Paul le Sueur marked the 60th anniversary of his ordination by celebrating Holy Communion in St. Lawrence Church Simpson. Let us give thanks for this example of the many simple acts of service Paul has given and pray for those who now have the duties and responsibility of ministers and pastors in our church today.
---
Some words from the United Congregational Church of South Africa:
"Do not forget the joy of the Lord is your strength.
Remember this…
We are called, not to be fearful, we are called to love.
We are called not to parade our holiness, we are called to be faithful.
We are not called to be all knowing, we are called to believe.
We are not called to claim, we are called to give.
We are not called to be victorious, we are called to be obedient.
We are called to serve and walk humbly with our God.
Lord reveal your will and remake your people.
Amen.
---
Let us pray for our broken world with so many suffering from conflict or from inability to provide even for their basic needs. We pray for the global economy which is unable to spread resources fairly and is slow to respond to the challenge of global warming.
This week marks the anniversary of the Grenfell Tower tragedy which killed 72 people and left hundreds more homeless. I think of it as a twenty first century parable that echoes a maxim I taught to business students when I had that duty. The idea is not mine, it is well written about in many text books on the subject.
"You can never delegate legal responsibility. You can only delegate tasks. Delegation is not 'palming off' and forgetting; you have to monitor and support those who you have instructed to fulfil each task. That the task itself is done properly remains your responsibility throughout the process"
Lord, if I open my eyes to the world around me, if I open my heart to the people that surround me, then I feel pain and brokenness. I see suffering and injustice. Lord see what evils some with power in this world are devising. Let the wind of your Spirit blow and reverse all the works of darkness.
Deliver us, Lord and grant us peace in our day. In your mercy, Lord, keep us free from sin and protect us from all anxiety. We pray for ourselves, for the gift of friendship and that we may be freed from any selfishness. Then we will journey with the kind-hearted Saviour. If we feed the hungry from our table, God will feed us with all the good things we require.
Prepare us now to carry your presence to the busy world and may we each have a day which refreshes rather than wears us down, and may it be sprinkled with times of awareness of God's love for us and all that we love.
Amen
Don Head