Daily Prayers Thursday, 5 May 2022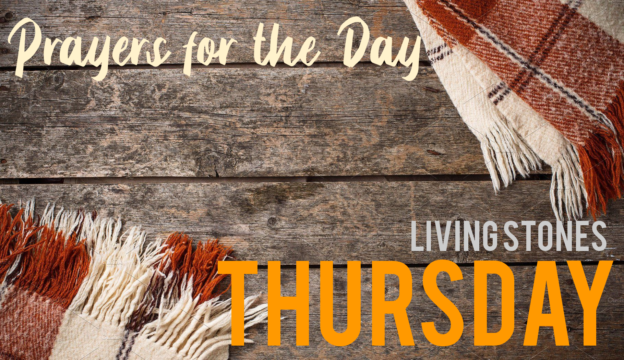 A reading from the Book of Revelation
The Scroll and the Lamb
1 Then I saw in the right hand of him who sat on the throne a scroll with writing on both sides and sealed with seven seals. 2 And I saw a mighty angel proclaiming in a loud voice, 'Who is worthy to break the seals and open the scroll?' 3 But no-one in heaven or on earth or under the earth could open the scroll or even look inside it. 4 I wept and wept because no-one was found who was worthy to open the scroll or look inside. 5Then one of the elders said to me, 'Do not weep! See, the Lion of the tribe of Judah, the Root of David, has triumphed. He is able to open the scroll and its seven seals.'
6 Then I saw a Lamb, looking as if it had been slain, standing at the centre of the throne, encircled by the four living creatures and the elders. The Lamb had seven horns and seven eyes, which are the seven spirits of God sent out into all the earth. 7 He went and took the scroll from the right hand of him who sat on the throne. 8 And when he had taken it, the four living creatures and the twenty-four elders fell down before the Lamb. Each one had a harp and they were holding golden bowls full of incense, which are the prayers of God's people. 9 And they sang a new song, saying:
'You are worthy to take the scroll
and to open its seals,
because you were slain,
and with your blood you purchased for God
persons from every tribe and language and people and nation.
10 You have made them to be a kingdom and priests to serve our God,
and they will reign on the earth.'
Revelation 5: 1–10 NIV®
Dear God, we thank you that through the death and resurrection of your Son our Saviour Jesus Christ, who is the Lamb upon the Throne, you have enabled us to be your people and to serve you. We pray that you will give us the grace, wisdom and strength to follow this calling, and by using the gifts of the Holy Spirit, to be your faithful servants. Help us always to remember that you have called us to a life of service to you, and without that service our lives are empty and meaningless. We owe it to you, to our neighbours throughout the world, and to ourselves to commit ourselves wholeheartedly to live as disciples of your Son Jesus Christ.
We pray for the needs of your people here in Milton Keynes, in this country and throughout the world. We pray that by the power of your Holy Spirit we may find ways to work towards a more just and equitable society, in a wealthy city like Milton Keynes and in communities around the world. We pray for the strangers in our midst, and that we may reach out to them and offer them a warm and truly hospitable welcome.
We pray for peace throughout your world. We pray for peace in Ukraine and in neighbouring countries, in Syria, in Afghanistan, and in so many hidden corners of the world. The news media may have moved on from these forgotten places, but you are there and know what atrocities are still being perpetrated. May our prayers be heard, so that your lasting, just and merciful peace may be known throughout the earth.
Lastly we pray for ourselves, our families and loved ones. We pray that you will grant us those things that will enable us to lead joyful lives in your service and for the good of all our neighbours.
We gather these and all our prayers in the prayer that Jesus taught his disciples:
Our Father in heaven,
hallowed be your name,
your kingdom come,
your will be done,
on earth as in heaven.
Give us today our daily bread.
Forgive us our sins
as we forgive those who sin against us.
Lead us not into temptation
but deliver us from evil.
For the kingdom, the power,
and the glory are yours
now and for ever.
Amen