Daily Prayers Friday, 6 May 2022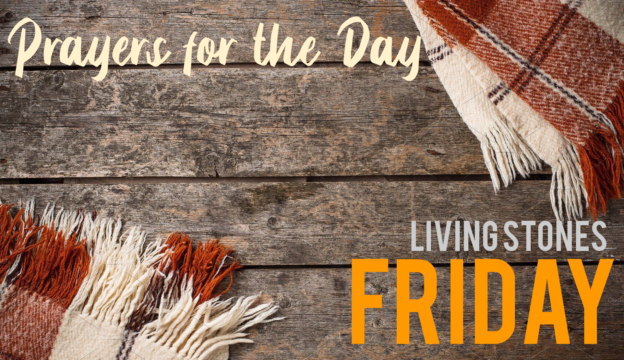 By the time you read this, I shall be away from Milton Keynes and, I hope, enjoying a break in Cornwall. I realise I am very fortunate to be able to do this, and find I am wanting to thank God for all his gifts and wanting him to make me even more appreciative of all the good things in my life.
Perhaps you could spend a short time reflecting on what makes life special for you at this time, then join me in this prayer of thanksgiving:
Loving and generous God, thank you for every good gift which comes from you which enriches our lives. Help us to slow down and notice the people, the weather, our food, the green spaces around us and all other things which we enjoy, but sometimes take for granted. As we slow down, let's try to imagine each of these things. Prompt us, as we go about our daily tasks, to stop and say, 'Thank you.'
At present many people are anxious about the increasing cost of living and having to adjust their lives, as they can no longer afford to buy all they once expected to purchase each week. We pray especially for those on low incomes and those who are already in debt. May they find the support they need to continue to live fruitful and satisfying lives. May they not be ashamed to ask for help if they need it.
We pray for those who work for organisations which offer support and advice to those who are struggling:
The Food Bank
The Community Larders and Community Fridges
St Mark's Meals
Our own Pastoral Workers and others who are helping locally in smaller ways.
May they not be discouraged and feel that what they do is too small or insignificant, even if they do not always see the impact of what they do.
We pray for all those who accept responsibility in national and local government. May they fulfil their duties with integrity and insight to support all those who need their help and to plan ahead to protect those in most need as far as they are able.
We pray especially for all who have been elected or re-elected this week to serve their community. Guide them in their decision making and support them as they carry out their duties and responsibilities.
And now, let us pause for a moment to listen to God's voice and hear what he is saying to us today.
---
And let us join together to say the Lord's prayer:
Our Father in heaven,
hallowed be your name,
your kingdom come,
your will be done,
on earth as in heaven.
Give us today our daily bread.
Forgive us our sins
as we forgive those who sin against us.
Lead us not into temptation
but deliver us from evil.
For the kingdom, the power,
and the glory are yours
now and for ever.
Amen
I wish you all a fruitful and satisfying day, whatever the day may bring.
Rosemary Kearsey