Daily Prayers Friday, 29 July 2022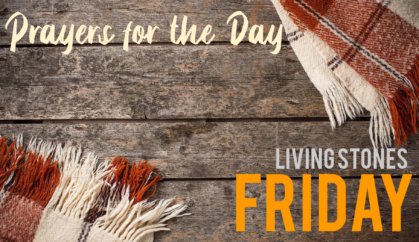 Good day to you all, Cornerstone people, on this clear and cloudless Friday morning at the end time of July:
a time of heat, a time of dry heat. We begin with thanks from Psalm 92:
It is good to give thanks to the Lord, to sing psalms to your name, Most High,
To declare your love in the morning and your faithfulness every night
To the music of a ten-stringed harp, to the sounding chords of the lyre.
Your acts, Lord, fill me with exultation; I shout in triumph at your mighty deeds.
How great are your deeds, Lord, how very deep are your thoughts.
Thank you, God, for this new day and all the chances for goodness it offers. May we always greet the fresh light of a new day with grateful thanks and a song of wonder at all you can provide.
Amen
The days now run quickly into August and crash too fast into September. The fields are already standing for harvest, but short and thin. Too much tilled soil is hard as rock and the roots of the barley find no refreshment. How will the people eat in winter? How will the hungry animals be fed?
There is a wonderful story in Psalm 107 about sailors caught in a storm:
The wind rose and lifted the waves high. The Seamen were carried up to the skies, then plunged down into the depths. They were tossed to and fro in peril, they staggered like drunkards and all their skill was of no avail.
The grass around here is brown – no worries, it will green up with rain. Potatoes and squash are small – but no worries, they will swell with rain. I will share my water with the birds and dragonflies and bumblebees and pray to the Lord for rain. I will look after the earth – literally, the dirt – and marvel at its ability to feed me year on year. I wait for rain while praising the Lord:
Give thanks to the Lord for his enduring love and for the marvellous things he has done for us.
Exalt him in the assembly of the people and praise him in the elders' council.
He turns rivers into desert, springs of water into parched ground;
He turns fruitful land into salt-marsh because the people there are so wicked.
Desert he changes to standing pools, arid land into springs of water.
There he gives the hungry a home and they build themselves a town to live in;
They sow fields and plant vineyards which yield a good harvest – He blesses them…
Good God, we depend on you in times of flood and drought, danger and safety, community and loneliness. We wait for rain. Bless everyone who waits with persistence in their reliance on you. Help the gap in the Ukraine war to get grain out of the harbour and make room for the harvest to come that the people of the world may not starve. May we cherish the dirt beneath our feet as a marvellous gift from you.
Amen
Placing all our cares into your hands Lord, will see us beyond the trial times.
We pray for Elaine as she faces a barrage of tests and treatment. We pray for Martha that her sight may be renewed and her pain relieved. We lift to you for comfort Martin Petchey and his sons Liam and Daniel as they mourn the loss of Debbie, wife and mother. Like the eagle protecting its young from the heat of the day, gather them all under your wings and keep them in your sheltering care.
Amen
And we must praise the Lord in celebration of this season:
From the athletes taking part in the Commonwealth Games, to the footballing women of astonishing skill, to the happiness of a family for Heather Britten, Jill Boynton's daughter, who is to be married in Worthing tomorrow. It is good to give thanks to the Lord and indeed we do. Bless them all with a great, joyful noise.
Amen
Cheryl Momtgomery