Daily Prayers Wednesday, 24 November 2021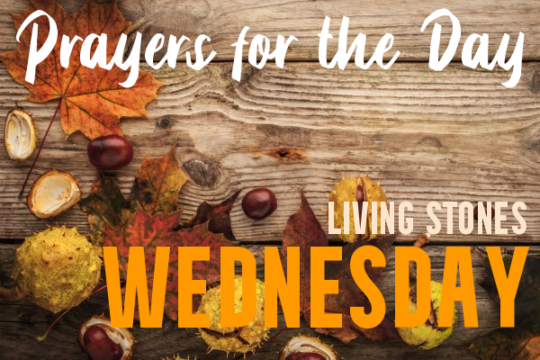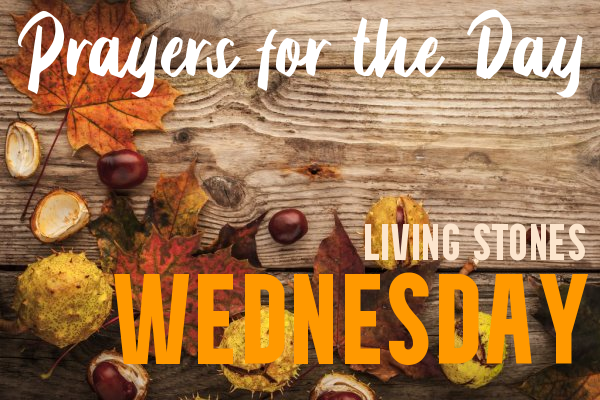 Good morning, everyone, on this wintry day
This morning's canticle is an extract from the Benedicite – A Song of Creation verses 1 and 4-6.
(It comes from an ancient Jewish prayer attributed to the three men thrown into the fiery furnace by Nebuchadnezzar, recorded in the Book of Daniel.)
Bless the Lord all you works of the Lord: sing his praise and exalt him forever.
Bless the Lord sun and moon: bless the Lord you stars of heaven; bless the Lord all rain and dew:
sing his praise and exalt him forever.
Bless the Lord all winds that blow: bless the Lord you fire and heat:
bless the Lord scorching wind and bitter cold: sing his praise and exalt him forever.
Bless the Lord dews and falling snows: bless the Lord you nights and days:
bless the Lord light and darkness: sing his praise and exalt him forever.
The earth is the Lord's and he made it: bless the Lord all you works of the Lord:
bless the Father, Son and the Holy Spirit: sing his praise and exalt him forever.
Amen
St Luke chapter 21 verses 10-19
Then he (Jesus) said to them (the disciples), 'Nation will rise against nation, and kingdom against kingdom; there will be great earthquakes, and in various places famines and plagues; and there will be dreadful portents and great signs from heaven.
But before all this occurs, they will arrest you and persecute you; they will hand you over to the synagogues and prisons, and you will be brought before kings and governors because of my name. This will give you an opportunity to testify. So make up your minds not to prepare your defence in advance; for I will give you words and a wisdom that none of your opponents will be able to withstand or contradict. You will be betrayed even by parents and brothers, by relatives and friends; and they will put some of you to death. You will be hated by all because of my name. But not a hair of your head will perish. By your endurance you will gain your souls.
---
The phrase repeated in the Benedicite, 'sing his praise and exalt him for ever' seems a good theme for morning prayers at the end of a year together with 'By your endurance you will gain your souls'.
The Bishop of Oxford visited Milton Keynes last week. Katherine Wheldon and I went to hear him on Thursday evening, talk about the world and the church in this time of 'post covid'. The pandemic has left both society and the churches in a fragile state. It is easy to get disheartened. He referred to the teaching given to our Lord's disciples at the start of his ministry recorded in St Matthew's gospel (chapter 5 verses 13 to 16)
'You are the salt of the earth; but if the salt has lost its taste, how can its saltiness be restored? It is no longer good for anything, but it is thrown out and trampled underfoot.
You are the light of the world. A city built on a hill cannot be hidden. No one after lighting a lamp puts it under a bushel basket, but on the lampstand and it gives light to all in the house. In the same way let your light shine before others, so that they may see your good works and give glory to your Father in heaven.'
It struck me that this message was particularly relevant to our church on the high spot in Central Milton Keyes.
Let us pray for the church starting a new year next Sunday with a new set of readings and a period of waiting for a momentous happening, the coming of Jesus into the world.
Let us resolve to be a light to Central Milton Keynes and put into effect our road map to serve the wider community and show by our actions wonder of God's love.
Let us aim to be, salt of the earth, to CMK.
Stir up, O Lord the wills of your faithful people; that they may produce plenteous fruits of good works, and may by you be plenteously rewarded; through Jesus Christ our Lord.
Amen.
In the next week we will say farewell to a faithful 'servant of the Lord, Eric Allen. Let us today remember Joan and their daughter and two sons. Eric's passing reminded me of the passage in Pilgrim's Progress about Mr Great-heart crossing the river, it reads: '…and going down deeper he shouted "Death where is your victory", so he passed over and all the trumpets sounded for him on the other side.'
Loving God, thank you for all those who have shaped our lives but whom we no longer see. Help us to remember them well and trust that they are at peace with you.
Amen
Let us pray for the world.
In this country we feel that we are in the phase of recovering from the effects of the pandemic, but it may return with the winter weather. Most of the world has not had such effective cover of vaccinated population, nor an effective, although overstretched, health system.
International trade is recovering, but this only illustrates the wide difference between the 'haves' and the 'have-nots'. We need better international relationships to enable the more individual, non-governmental activity that is needed to redress the imbalance of resources. It is important that we, living in more prosperous parts of the world, do not think of the less fortunate as 'being the problem'. The needy in our land and the millions in poorer parts of the world can be themselves the answer to their problems far better than us; they just need us to help them with resources.
Let us pray the governments in the richer nations will acknowledge our duty to those who have inadequate supplies of vaccines and who are in a position of weakness within the international trading system.
Let us pray for 'fairer trade' and an economic system that is less discriminatory against the 'weak'.
Merciful God, you have compassion for all that you have made and the whole of creation is enfolded in your love; help us to stand firm for your truth, to struggle against need and poverty and to share your love with our neighbour that we may always be instruments of your peace.
Amen.
Go well, everyone. Stay safe and wrapped up warm.
Don Head