Daily Prayers Tuesday, 23 November 2021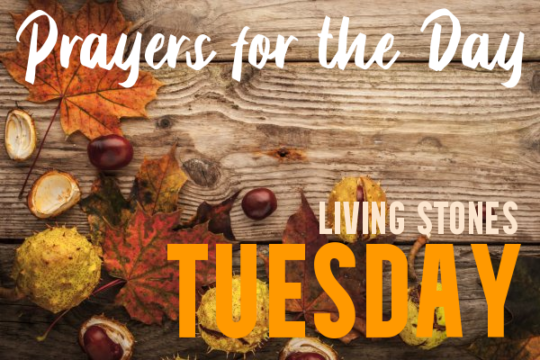 WHY YOUR POEMS ARE SO DARK?
by Linda Pastan
Isn't the moon dark too,
most of the time?
And doesn't the white page
seem unfinished
without the dark stain
of alphabets?
When God demanded light,
he didn't banish darkness.
Instead he invented
ebony and crows
and that small mole
on your left cheekbone.
Or did you mean to ask
"Why are you sad so often?"
Ask the moon.
Ask what it has witnessed.
Welcome to Prayers for the Day
We light a candle…
Lord, may this candle be a light for you to enlighten me in my decisions,
And may it be a fire for you to purify me from all pride and selfishness.
May it be a flame for you to build warmth into my heart towards my family, my neighbours and all those who meet me.
In leaving this candle, I wish to give you something of myself.
Help me to continue this prayer into everything I do this day.
Amen.
The night has passed, and the day lies open before us;
let us pray with one heart and mind.
Silence is kept.
As we rejoice in the gift of this new day,
so may the light of your presence, O God,
set our hearts on fire with love for you;
now and for ever.
Amen.
Breathe in
Breathe out
Be still…
I arise today,
embraced in the arms
of God the Father,
empowered by the strength
of God the Spirit,
immersed in the love
of God the Son.
I arise today
in the company
of the Trinity,
Father, Spirit and Son.
I arise today
Amen
Presence
Lord, you are always there
waiting for me.
May I never be too busy to
find time to spend in your presence.
Freedom
Thank you for the gift of freedom, Lord.
Grant that I may always choose to follow You.
Keep me ever mindful of your ways.
Of your love and concern for all people.
Consciousness
How do I find myself today?
Where am I with God? With others?
Do I have something to be grateful for? Then I give thanks.
Is there something I am sorry for? Then I ask forgiveness.
THE WORD OF GOD
Luke 21:5-11
When some were speaking about the temple, how it was adorned with beautiful stones and gifts dedicated to God, Jesus said, "As for these things that you see, the days will come when not one stone will be left upon another; all will be thrown down." They asked him, "Teacher, when will this be, and what will be the sign that this is about to take place?" And he said, "Beware that you are not led astray; for many will come in my name and say, 'I am he!' and, 'The time is near!' Do not go after them. When you hear of wars and insurrections, do not be terrified; for these things must take place first, but the end will not follow immediately." Then he said to them, "Nation will rise against nation, and kingdom against kingdom; there will be great earthquakes, and in various places famines and plagues; and there will be dreadful portents and great signs from heaven."
WORDS OF WISDOM
We can say that the deepest question of my life, really, is not what my father . . . or my mother thought of me, or what my husband or wife thinks of me, or what my pastor or my boss thinks of me. Really, the deepest issue isn't what I think of me, but can I join God in knowing who God knows me to be? Can I join God in seeing who God sees me to be when God sees me? This is salvation.
In order to do this, I have to let go of my own present way of seeing things, and I discover I can't. We're afraid to lose the control that we think that we have over the life that we think that we're living, and we're addicted to what blinds us. . . . The mystery of the cross, then, is this mystery of just being liberated from this deep addiction to the illusion of an ultimately isolated self that has to make it on its own. To realize I'm in the presence of the love that loves us and takes us to itself. . . .
Jim envisions God saying to each of us, in the midst of our struggles:  
You know what? . . .  I'm in love with you. I'm so in love with you that I'm utterly giving myself away [to you] as invincibly precious in my eyes, in the midst of the unresolved matters of your heart. I find in these unresolved matters no obstacle to how infinitely precious you are to me as I pour out and give myself to you as life of my life. . . .
Jim concludes: 
That's faith in the higher power. But what if the brokenness has no authority at all over us? What if only love has the authority over us? That's the essence of the gospel. The essence of the gospel is there. That's why I say the miracle stories of Jesus, when you really look at the healing stories, they're all the same, basically. A person brings suffering; Jesus listens to the suffering, responds to the suffering. But Jesus sees the essence of their suffering isn't that their daughter died or they can't see or they can't walk, or they're a prostitute or a tax collector. The issue of their suffering is they think they are what's wrong with them. It's the idolatry of their shame. Reflected in [Jesus'] eyes, they see their true face before they were born, hidden with Christ in God forever. That's experiential salvation.
James Finley
https://cac.org/seeing-ourselves-as-god-sees-us-2021-11-18/
Copyright © 2021 by CAC. Used by permission of CAC. All rights reserved worldwide.
PRAYERS & INTERCESSIONS
We pray for the world…
Lord, in your mercy
hear our prayer.
We pray for the universal church of Christ…
Lord, in your mercy
hear our prayer.
We pray for one another and all those known to us…
Lord, in your mercy
hear our prayer.
The Lord's Prayer
As our Saviour taught us, so we pray
Our Father in heaven,
hallowed be your name,
your kingdom come,
your will be done,
on earth as in heaven.
Give us today our daily bread.
Forgive us our sins
as we forgive those who sin against us.
Lead us not into temptation
but deliver us from evil.
For the kingdom, the power,
and the glory are yours
now and for ever.
Amen.
May God the Father
prepare your journey,
Jesus the Son
guide your footsteps,
The Spirit of Life
strengthen your body,
The Three in One
watch over you,
on every road
that you may follow.
Amen
THE BLESSING
May your day be blessed
by moments of quietness,
light in your darkness,
strength in your weakness,
grace in your meekness,
joy in your gladness,
peace in your stillness.
May your day be blessed
AMEN
Thank you for join us…have a wonderful day!
Revd. Ernesto Lozada-Uzuriaga