Daily Prayers Wednesday, 13 April 2022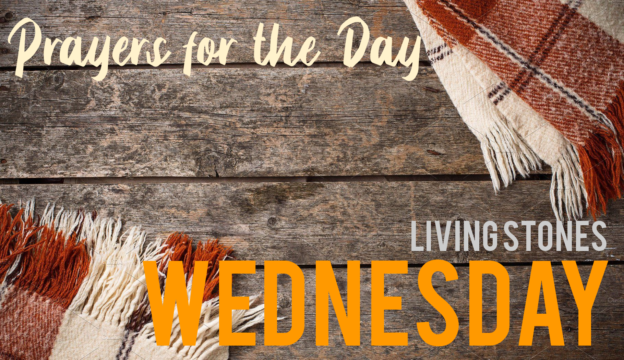 Good morning, Cornerstone friends. We are in the middle of Holy Week, ready to spend the next four days reliving the betrayal, passion, death and burial of our Lord, Jesus Christ.
April is the cruellest month, breeding
Lilacs out of the dead land, mixing
Memory and desire, stirring
Dull roots with spring rain.
T.S. Eliot; The Waste Land (1922), 1 The Burial of the Dead
O God, make speed to save me;
O Lord, make haste to help me.
Let those who seek my life
be put to shame and confusion;
Let them be turned back and disgraced who wish me evil.
Let those who mock and deride me
turn back because of their shame.
Let all those who seek you
rejoice and be glad in you;
let those who  love your salvation say always,
'Great is the Lord!'
As for me, I am poor and needy;
come to me quickly, O God.
You are my help and my deliverer;
O Lord do not delay.
Psalm 70
O God our help and defender, deliver us in our weakness,
answer our longings and vindicate our faith,
that we may see your glory in Jesus Christ our Lord.
Amen
Discourses at the Last Supper
After saying this Jesus was troubled in spirit, and declared, 'Very truly, I tell you, one of you will betray me.'
The disciples looked at one another uncertain of whom he was speaking. One of his disciples- the one whom Jesus loved – was reclining next to him. Simon Peter therefore motioned to him to ask Jesus of whom he was speaking.
So while reclining next to Jesus he asked him, 'Lord, who is it?'
Jesus answered, 'It is the one to whom I give this piece of bread when I have dipped it in the dish.' So when he had dipped the piece of bread he gave it to Judas son of Simon Iscariot. After he received the piece of bread, Satan entered into him.
Jesus said to him, 'Do quickly what you are going to do.' Now no one at the table knew why he said this to him. Some thought that, because Judas had the common purse, Jesus was telling him, 'Buy what we need for the festival'; or that he should give something to the poor. So after receiving the piece of bread, he immediately went out and it was night.
When he had gone out, Jesus said, 'Now the Son of Man has been glorified, and God has been glorified in him. If God has been glorified in him, God will also glorify himself and will glorify him at once.'
John 13: 21–32
The psalmist, King David, spent some of his time in great peril from enemies and many of the psalms ask God to fight back on his behalf when any contact with his enemies would have meant death. Those who annoy us are not enemies and we have opportunity to meet with them and 'clear the air' so that there is concord and understanding between us. God is always there for us even if we do not take such opportunities, but failure to try and live as a family is not where God would wish us to be.
Love bade me welcome, yet my soul drew back
Guilty of lust and sin,
But quick eyed love observing me grow slack
From my first entrance in
Drew near to me, sweetly questioning,
If I lacked anything.
George Herbert (1633) Love (3), v.1
The New Testament reading is about betrayal and when our Lord had himself set it in motion, he said, 'Now the Son of Man has been glorified'. His suffering and death are the road to salvation for all people. The New Testament between God and humanity which we celebrate at Easter.
O generous love! that he, who smote
in Man for man the foe,
the double agony in Man
for man should undergo;
And in the garden secretly,
and on the cross on high,
should teach his brethren and inspire
to suffer and to die.
Praise to the Holiest in the height
and in the depth be praise:
in all his words most wonderful,
most sure in all his ways.
John Henry Newman (1801–1890)
We will end this morning's thought with the Lord's Prayer, to which I have added the comments from Steven Croft in the current edition of Pathways. (This has a longer thought on prayer and forgiveness worth reading and you will find out what Patricia said to Revd Ruth Harley of Watling Valley LEP.
Our Father in heaven, hallowed be your name
I am known and loved and called by God, made in God's image; I have a family and neighbours, Jesus is my brother; I surrender to God's will.
Your kingdom come, your will be done on earth as in heaven.
The world is not yet as God intends it to be, but God is at work through Jesus and through the church to make it so. One day everything will be done on earth as it is in heaven.
Give us today our daily bread,
Ask for just enough each day and learn to be content with what you already have. Long for a deeper relationship with Jesus, our Lord and Saviour who teaches us to pray in this way.
Forgive us our sins as we forgive those who sin against us. Lead us not into temptation but deliver us from evil.
We are able to forgive because we are loved by God and have ourselves been forgiven by him.
For the kingdom, the power and the glory are yours, now and forever.
Amen
Ending the prayer as we began in praise of God. Our purpose and our destiny is to know God and to enjoy him for ever, to find our joy in our maker, Creator, redeemer and friend.
Gracious Father, you gave up your Son out of love for our world: lead us to ponder the mysteries of your passion,
that we may know eternal peace through the shedding of the blood of our Saviour Jesus Christ our Lord.
Amen
Don Head