Daily Prayers Wednesday, 12 January 2022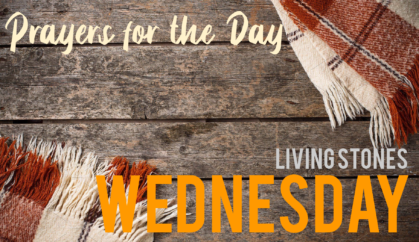 Good morning, Cornerstone Friends.
This is my first time doing the prayers in 2022 so a very blessed and healthy new year to you all.
One of the readings for today in the lectionary is Psalm 19, a psalm of David, and I would like us to focus on verses 7 to 14. These verses describe the Lord as the God of covenant love and faithfulness to his people. David explains seven glorious statements about the word of God: how wonderful and effective it is, that it is perfect and revives the soul, that it makes wise the simple, that it is true and cheers the heart, that it is pure and will bring us hope and comfort and knowledge, that it lasts for ever and that it is honest and righteous and should be studied, meditated on, loved and lived.
Psalm 19 verses 7 to 14
The law of the Lord is perfect and revives the soul.
The Lord's instruction never fails;
it makes the simple wise.
The precepts of the Lord are right and give joy to the heart.
The commandment of the Lord is pure and gives light to the eyes.
The fear of the Lord is unsullied; it abides for ever.
The Lord's judgements are true and righteous every one, more to be desired than gold, pure gold in plenty, sweeter than honey dripping from the comb.
It is through them that your servant is warned; in obeying them is great reward.
Who is aware of his unwitting sins?
Cleanse me of any secret fault.
Hold back your servant also from wilful sins, lest they get the better of me.
Then I shall be blameless,
innocent of grave offence.
May the words of my mouth and the thoughts of my mind be acceptable to you, Lord, my rock and my redeemer.
Loving Heavenly Father,
As we meditate today on the words of this wonderful psalm, we pray that we may open ourselves to you and the amazing gifts you offer to us. We ask that you give us strength to live by your laws, that we may grow in wisdom, that our relationship with you will give us hope, comfort and knowledge as we try to follow you and serve those around us. And as the psalm concludes, please God let the words of our mouths and the thoughts of our minds be acceptable to you, Lord, our rock and our redeemer.
Amen
As part of our care for others, I would like us to pray specially today for people who live on their own and for those who have lost loved ones recently.
Loving Father,
We know it is not always easy to live alone. We miss companionship with others, someone to care for, someone to be cared for by, someone to share the little ordinary bits of life with, someone to cry with, someone to laugh with, someone to hug. Please help us all to stretch out our hands and give as much support as we can to all those who are feeling cut off, unloved and lonely. And help us to really feel and understand that you are always with us and close by and can fully appreciate all that we are feeling.
We ask this in Jesus' name.
Amen
Loving Father,
A number of our group we know are suffering the loss of much loved friends and family at this time. We thank you for all these people have meant to us, for all the fun times we have had with them, for all the love and care they have given us. We miss them, they have left big gaps in our lives. Please be close to us as we adjust to lives without them and help us to feel your all encompassing love.
We ask this in Jesus' name.
Amen
To close a hymn of adoration for our wonderful God.
Sing for God's glory
Sing for God's glory that colours the dawn of creation,
racing across the sky trailing bright clouds of elation;
sun of delight succeeds the velvet of night,
warming the earth's exultation.
Sing for God's power that shatters the chains that would bind us,
searing the darkness of fear and despair that could blind us,
touching our shame with love that will not lay blame,
reaching out gently to find us.
Sing for God's justice disturbing each easy illusion,
tearing down tyrants and putting our pride to confusion;
lifeblood of right, resisting evil and slight,
offering freedom's transfusion.
Sing for God's saints who have travelled faith's journey before us,
who, in our weariness, give us their hope to restore us;
in them we see the new creation to be,
Spirit of love made flesh for us.
Have a good day.
Rosemary Goldie