Daily Prayers Tuesday, 11 January 2022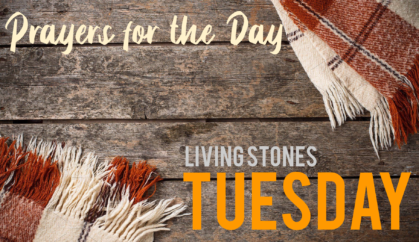 Janet often prepares prayers for when I'm leading the Sunday Evening group on Zoom.  I know how much the group appreciate the thought and time she puts into these prayers so I thought I would share with you something Janet prepared last year, using some material from the Baptist Union, yet is still meaningful today.
Lord,
As we come before you in prayer we thank you for your willingness to listen to us, aware that you are much more willing to listen to us than we are to listen to you.
Loving God when we are weary give us fresh energy;
When we are frustrated, give us calmness;
When we are sad, give us comfort;
When we are disappointed, give us hope;
When we are happy, rejoice with us;
When we are hopeful, give us the courage to share;
In everything turn us back to focus on you;
The one who has given us all things.
Loving God,
All the world belongs to you.
Forgive us that so often we live as if the world belongs to us.
Help us to learn how to use the things of your world with wisdom and humility
and to be aware of the needs of others, not just our own desires.
When we are daunted by fear of the future, inspire us by your Spirit to live hopefully
Move us through the beauty that we encounter in your world
to find creative ways of working with you for its sustainable future.
Loving God, All the world belongs to you.
Lord, we are so thankful that no matter where we are we can serve you.
Help us to reflect your image in our current situations even if it is not where we hoped we would be.
Be with us and all those we care about today and during this week.
We ask this in the name of Jesus Christ our Lord.
Amen
Janet Trimnell