Daily Prayers Tuesday, 19 July 2022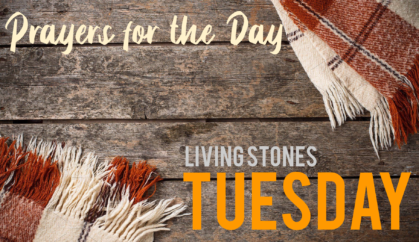 Greetings to all of us this morning and we thank God for the gift of each of our lives. May we know and see God's powerful hands in our lives and world today; and may we be open to being His hands, feet, eyes and ears.
This morning the themes in our prayer and from our readings are:
Deliverance, Protection, Hope and Restoration
Pandemics, wars, difficult life situations and human grumblings on resolving national and world issues are not new.
In biblical times Israel experienced and suffered through many challenges.
In the desert Israel complained a lot about their plights. But God did not leave them. His protection was on them both day and night.
As we go into; and remain in the pandemic, political and cost of living insecurities; let us thank God for all He has brought us through and let us commit these ongoing situations to Him.
Let us ask Him to give us the gifts of: wisdom in our choices and spending abilities; increased love and concern for our neighbours locally, nationally and worldwide; endurance; faith; hope and patience during these times.
Let us pray for strength and ability to continue to keep going each day and safe individually and in consideration of the 'Other'.
Let us pray for the many that are going to find the increased cost of living unusually difficult; those who would have to choose between heating and eating in the months ahead, people who may need extra income but are not in positions to do so; businesses both small and big, particularly those who wrestle with moral issues to pass increased costs on to consumers. Let us pray for hope with faith that these challenges will pass and our community lives will be restored to experience affordable prices and stability.
Let us continue to hold the Covid and War situations before God asking for His intervention and Grace not only for our Country but globally.
In 1 Chronicles 21 v 14-15 we see God's grace and compassion for his people:
With this Scripture are not saying that God sent the epidemic on us. What we are asking is His compassion and intervention on our plights as we prayerfully ask that His Word speaks into the Virus and War in Ukraine by Russia by saying: it is 'enough' and both situations should stop afflicting His people.
Let us pray for God's peace on our congregation, for other churches in Milton Keynes, our nation, world and all people. We also pray for both, that they will work towards peace. We also remember Afghanistan, Syria, Israel and Palestine and the continent of Africa.
As we draw out prayer to a close let us make our individual prayers for ourselves, family, loved ones, neighbours and all who will be ministering and volunteering today: The sick in our congregation, the unemployed, those struggling with other forms of discomforts, the safety of our children, their teachers and ancillary staff; Those who live alone and homes that are already feeling financial pressures and discomforts.
I will end our prayer with reading of selective verses of Scripture from Psalms 33 and 60. We can use as both collective and individual prayer guidance.
Psalm 60
2 You have shaken the land and torn it open;
mend its fractures, for it is quaking.
3 You have shown your people desperate times;
you have given us wine that makes us stagger.
4 But for those who fear you, you have raised a banner
to be unfurled against the bow.
5 Save us and help us with your right hand,
that we may be delivered.
11 Give us aid against the enemy which for us are increased cost of living, wars, Covid, trust in our governments, sickness, poverty and inequalities.
12 With God we will gain the victory,
Psalm 33
4 For the word of the LORD is right and true;
he is faithful in all he does.
5 The LORD loves righteousness and justice;
the earth is full of his unfailing love.
6 By the word of the LORD the heavens were made,
9 For he spoke, and it came to be;
he commanded, and it stood firm.
11 the plans of the LORD stand firm forever,
the purposes of his heart through all generations.
12 Blessed is the nation whose God is the LORD,
the people he chose for his inheritance.
13 From heaven the LORD looks down
and sees all mankind;
14 from his dwelling place he watches
all who live on earth—
15 he who forms the hearts of all,
who considers everything they do.
17 A horse is a vain hope for deliverance;
despite all its great strength it cannot save.
18 But the eyes of the LORD are on His people,
on those whose hope is in his unfailing love,
19 to deliver them,
20 We wait in hope for the LORD;
he is our help and our shield.
21 In him our hearts rejoice,
for we trust in his holy name.
23 May your unfailing love be with us,
LORD, even as we put our hope in you.
LORD we ask that you deliver us from the effects of Wars, Covid, inefficient governances worldwide: bring your wisdom, direction order and stability in our governments at home and abroad. Help us to navigate and endure our experiences well and to see you in all things. Keep us in good spirits and safe in these difficult times in Jesus' name.
May the Grace and blessings of our Father, our Lord Jesus Christ and the Holy Spirit be with us today.
Amen
Hannah Akibo-Betts