Daily Prayers Monday, 18 July 2022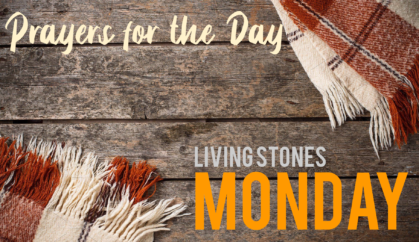 I AM NOT DONE YET
by Lucille Clifton
as possible as yeast
as imminent as bread
a collection of safe habits
a collection of cares
less certain than i seem
more certain than i was
a changed changer
i continue to continue
what i have been
most of my lives is
where i'm going
Welcome to Prayers for the Day.
We light a candle…
Lord, may this candle be a light for you to enlighten me in my decisions,
And may it be a fire for you to purify me from all pride and selfishness.
May it be a flame for you to build warmth into my heart towards my family,
my neighbours and all those who meet me.
In leaving this candle, I wish to give you something of myself.
Help me to continue this prayer into everything I do this day.
Amen.
The night has passed, and the day lies open before us;
let us pray with one heart and mind.
Silence is kept.
As we rejoice in the gift of this new day,
so may the light of your presence, O God,
set our hearts on fire with love for you;
now and for ever.
Amen.
Presence
I pause for a moment, aware that God is here.
I think of how everything around me,
the air I breathe, my whole body,
is tingling with the the presence of God.
Freedom
Many countries are at this moment suffering the agonies of war.
I bow my head in thanksgiving for my freedom.
I pray for all prisoners and captives
Consciousness
In the presence of my loving Creator, I look honestly at my feelings over the last day, the highs, the lows and the level ground. Can I see where the Lord has been present?
THE WORD OF GOD
Matthew 12:38-42
Then some of the scribes and Pharisees said to Jesus, "Teacher, we wish to see a sign from you." But he answered them, "An evil and adulterous generation asks for a sign, but no sign will be given to it except the sign of the prophet Jonah. For just as Jonah was three days and three nights in the belly of the sea monster, so for three days and three nights the Son of Man will be in the heart of the earth. The people of Nineveh will rise up at the judgment with this generation and condemn it, because they repented at the proclamation of Jonah, and see, something greater than Jonah is here! The queen of the South will rise up at the judgment with this generation and condemn it, because she came from the ends of the earth to listen to the wisdom of Solomon, and see, something greater than Solomon is here!"
WORDS OF WISDOM
These days, compromise is something that seems completely foreign to most people. Whether the subject be the Church, politics, COVID-19, education, or any number of other topics, we just can't seem to find some common ground. We dig in our heels and engage in an endless tug-of-war. I'm right; you're wrong.
If I compromise, I lose and you win. The result is much like situations that I face with my kids: yelling or silence, closed minds, hateful words, and hurt feelings. The only answer, if we want to change things or make progress on anything we care about, is to meet somewhere in the middle. I'm willing—are you? I'll meet you halfway.
Susan Hines-Brigger
PRAYER FOR TODAY
Lord our God, kindle true light in our hearts and minds, that we may recognize what we are and become free of everything false and dishonest. Let this light of righteousness, this judgment, go through all nations, that people no longer use empty words when they talk of "mercy" and "truth." Grant that your mercy and your truth find the right soil and bear fruit. May they find soil prepared by you, for you judge us and make right what is wrong in our earthly life. We thank you that however painful many of our experiences are, we may still say, "Through how much need has not our merciful God spread out his wings to protect us!"
Amen.
IMAGE FOR TODAY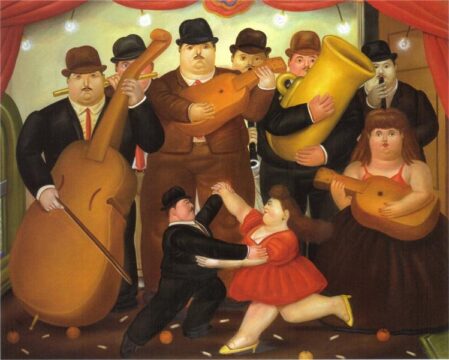 DANCING IN COLOMBIA
By Fernando Botero (1980)
THE BLESSING
May God the provider of green pastures and
quiet waters be the peace in our hearts today
May Jesus our guide on mountain top and valley
deep be the hope in our hearts today
May the Spirit of truth and knowledge
comforter and friend be the strength in our hearts today
Amen
Thank you for join us. Have a wonderful day
Revd. Ernesto Lozada-Uzuriaga