Daily Prayers Tuesday, 3 May 2022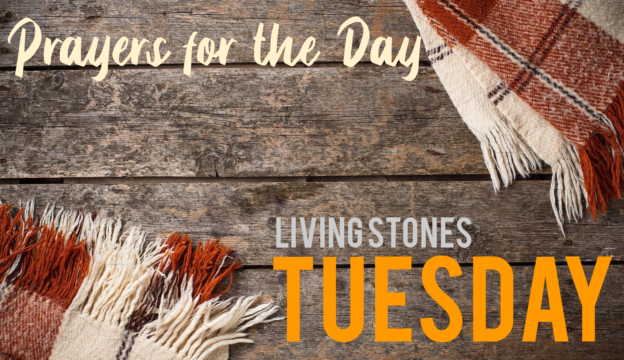 THE VOICE OF GOD
by Mary Karr
Ninety percent of what's wrong with you
could be cured with a hot bath,
says God from the bowels of the subway.
but we want magic, to win
the lottery we never bought a ticket for.
(Tenderly, the monks chant, embrace
the suffering.) The voice of God does not pander,
offers no five-year plan, no long-term
solution, nary an edict. It is small & fond & local.
Don't look for your initials in the geese
honking overhead or to see thru the glass even
darkly. It says the most obvious crap—
put down that gun, you need a sandwich.
Welcome to Prayers for the Day
We light a candle…
Lord, may this candle be a light for you to enlighten me in my decisions,
And may it be a fire for you to purify me from all pride and selfishness.
May it be a flame for you to build warmth into my heart towards my family, my neighbours and all those who meet me.
In leaving this candle, I wish to give you something of myself.
Help me to continue this prayer into everything I do this day.
Amen.
The night has passed, and the day lies open before us;
let us pray with one heart and mind.
Silence is kept.
As we rejoice in the gift of this new day,
so may the light of your presence, O God,
set our hearts on fire with love for you;
now and for ever.
Amen.
Presence
Let my heart rejoice and be glad
in this time of prayer.
Remind me often of the great
blessings You have bestowed on me.
Freedom
If God were trying to tell me something, would I know?
If God were reassuring me or challenging me, would I notice?
I ask for the grace to be free of my own preoccupations
and open to what God may be saying to me.
Consciousness
Grant, O Lord, that I may be conscious
and grateful for all the good things you have given to me.
May I share my blessings with others always.
THE WORD OF GOD
John 14:6-14
Jesus said to him, 'I am the way, and the truth, and the life. No one comes to the Father except through me. If you know me, you will know my Father also. From now on you do know him and have seen him.'
Philip said to him, 'Lord, show us the Father, and we will be satisfied.' Jesus said to him, 'Have I been with you all this time, Philip, and you still do not know me? Whoever has seen me has seen the Father. How can you say, "Show us the Father"? Do you not believe that I am in the Father and the Father is in me? The words that I say to you I do not speak on my own; but the Father who dwells in me does his works. Believe me that I am in the Father and the Father is in me; but if you do not, then believe me because of the works themselves. Very truly, I tell you, the one who believes in me will also do the works that I do and, in fact, will do greater works than these, because I am going to the Father. I will do whatever you ask in my name, so that the Father may be glorified in the Son. If in my name you ask me for anything, I will do it.
WORDS OF WISDOM
The root of violence is the illusion of separation—from God, from Being itself, and from being one with everyone and everything. When we don't know we are connected, we will invariably resort to some form of violence to get the dignity and power we lack. Contemplation of the gospel message gradually trains us not to make so much of differences, but to return to who we are—our True Selves in God—which is always beyond any nationality, religion, skin colour, gender, sexuality, or any other possible labels. In fact, we finally can see that those are always and only commercial labels, covering the rich product underneath.
When we can become little enough, naked enough, and honest enough, then we will ironically find that we are more than enough. At this place of poverty and freedom, we have nothing to prove and nothing to protect. Here we can connect with everything and everyone. Everything belongs. This cuts violence at its very roots, before there is even a basis for fear or greed—the things that usually cause us to be angry, suspicious, and violent.
To be clear, it is inconceivable that a true Christian would be racist, anti-Semitic, xenophobic, homophobic, or bigoted toward any group or individual, especially toward the poor and vulnerable, which seems to be an acceptable American prejudice. To end the cycle of violence, our actions must flow from our authentic identity as Love.
One of the reasons I founded the Center for Action and Contemplation was to give activists some grounding in spirituality so they could continue working for social change, but from a stance much different than vengeance, ideology, or willpower pressing against willpower. Most activists I knew loved Gandhi's and Martin Luther King, Jr.'s teachings on nonviolence. But it became clear to me that many of them had only an intellectual appreciation rather than a participation in the much deeper mystery. The ego was still in charge, and I often saw people creating victims of others who were not like them. It was still a power game, not the science of love that Jesus taught us.
When we begin by connecting with our inner experience of communion rather than separation, our actions can become pure, clear, and firm. This kind of action, rooted in one's True Self, comes from a deeper knowing of what is real, good, true, and beautiful, beyond labels and dualistic judgments of right or wrong. From this place, our energy is positive and has the most potential to create change for the good. This stance is precisely what we mean by "being in prayer." We must pray "unceasingly" to maintain this posture. It is a lifelong process.
We wait in prayer, but we don't wait for absolutely perfect motivation or we will never act. Radical union with God and neighbour should be our starting place, not private perfection.
Fr Richard Rohr
https://cac.org/the-root-of-violence-2022-05-01/
Copyright © 2021 by CAC. Used by permission of CAC. All rights reserved worldwide.
PRAYER FOR TODAY
Dear Father in heaven, you show us the way of life; in your presence is fullness of joy, and at your right hand is delight forever. In your presence we want to rejoice together as your children, under your protection. May we become firm in every part of our life on earth. Grant that soon something of your kingdom, of your heaven, may encircle us like a blessing, enabling us to fight on in joy and exultation. We entrust ourselves to you, our faithful and loving God, and we thank you.
Amen.
IMAGE FOR TODAY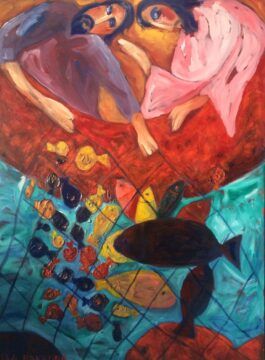 Jesus and Peter fishing
by Olga Bakhtina
THE BLESSING
May your day be blessed
by moments of quietness,
light in your darkness,
strength in your weakness,
grace in your meekness,
joy in your gladness,
peace in your stillness.
May your day be blessed
AMEN
Thank you for join us…have a wonderful day!
Revd. Ernesto Lozada-Uzuriaga