Daily Prayers Friday, 29 April 2022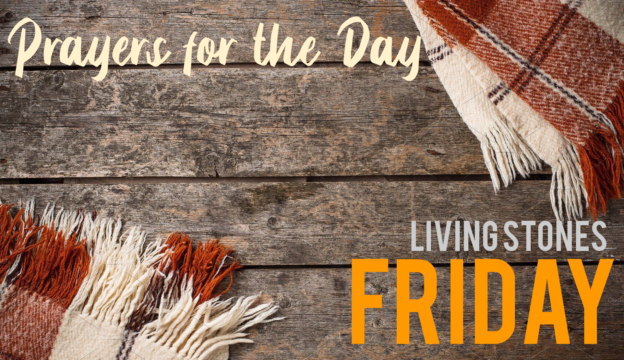 Good morning my Cornerstone Friends!
As we thank God for the refreshing night, welcoming the new day's light, let us invite the risen Christ into our midst:
Come, Lord Jesus, be our guest, be among us now. Come close to us that we may come close to you. Know us and inspire us for the day ahead.
AMEN
Over the past couple of weeks, I've been blessed to be held in your thoughts and prayers and to receive so many good wishes. Cornerstone people are truly demonstrating our Oasis of Hope conviction that we first have a mission to each other. Our faith is of community – you can't be a Christian on your own – and I thank God daily for our community – God's community – of people who continue in faith, passing it on like a bowl of beautiful fruit, nourishing the soul.
Paul wrote to the Thessalonians –
We always thank God for you all and mention you in our prayers. We continually call to mind, before our God and Father, how your faith has shown itself in action, your love in labour and your hope of our Lord Jesus Christ in perseverance. My dear friends, beloved by God, we are certain that he has chosen you because when we brought you the Gospel we did not bring it in mere words but in the power of the Holy Spirit and with strong conviction.
---
Thank you Lord for your people who demonstrate faith in action, from taking your stand in defence of dignity to love in the labour of the tea pot. Help us to honour and appreciate every loving act. Give them strength to persevere in Christ's hope. May we grow our community of faith that we may truly offer an Oasis of Hope to the City Centre, Campbell Park and to each other. In the name of Christ who creates our hope we pray.
AMEN
It was only three years since last we marked Holy Week and Easter with Christian Tradition. This year we approached it like we had a faulty memory, aiming to leave nothing undone, nothing would be lacking, and the people came. They joined in walking, praying and singing like drawing on a comfortable coat and discovering the reminders you'd left in the pockets in 2019. Beset by untrustworthy people amongst those who govern us, with work that pays too little when just living costs far too much and the whole of Europe quaking from the threat of outright war, lifting high the cross of redemption is a daunting task. In a world of degraded soil, polluted water and a climate in crisis, tending creation seems an impossible task. If we knew the earth loved us would we love it back?
Lord, give us courage enough to share and a heart full of care for our community that drives us to action. Help us stay curious to know about and love each other that we may truly live the Gospel in the power of the Holy Spirit with strong conviction. Let us all walk through this day in the glow of your blessing.
AMEN.
Cheryl Montgomery