Daily Prayers Friday, 14 January 2022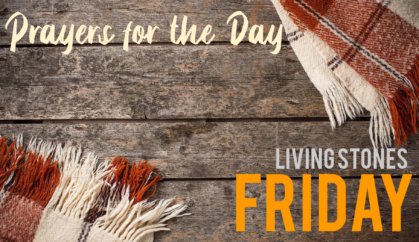 Good morning, Cornerstone Fellowship, as we venture out into this new year. The turning of the old one was truly dark and dismal,: we yearned for light to dismiss the darkness, our songs and prayers were chasing the light. Now we are into the cold, crisp, fresh mornings of mid-January, the light is returning both early and late. The primrose sun rising over the hard frost brings the promise of renewal. Let's begin today in praise and thanksgiving to God who carries us through the dark times and into the light.
O give thanks to the Lord for he is Good and his mercy endures forever!
Amen
A reading of praise from Psalm 36:5–9
Your love, Lord, reaches to the heavens,
your faithfulness to the skies.
Your righteousness is like the highest mountains,
your justice like the great deep.
You, Lord, preserve both the people and animals.
How priceless is your unfailing love, O God!
People take refuge in the shadow of your wings.
They feast on your abundance,
they drink from your river of delights.
For with you is the fountain of life;
in your light we see light.
Psalm 36:5–9 NIV®
Lord, whose light reaches into all the dark corners of our life,
whose light brings revelation and hope,
we pray for our community here in Milton Keynes and abroad in our country,
continuing in unhealthy limbo, touched by illness and random death.
Dawn on those who lead,
who make civic and political decisions with integrity in their responsibility.
Give them fresh eyes to see the plight of the poor,
enlighten them with a new desire for justice and a fair distribution of resources.
May they burn with your light from deep within.
Amen
As the brilliant winter sun burns away the frost of night, this is a good time to live in forgiveness, in a life made new, a time to re-build our life in community, a time to stop chasing the light because it's no longer far away but has come right in among us, bringing goodness to birth. How can we possibly be downcast in the face of such brilliance?
A reading of deliverance from Isaiah 61:10–11 and 62:1–2
Let me rejoice in the Lord with all my heart,
let me exult in my God;
for he has robed me in deliverance
and arrayed me in victory,
like a bridegroom with his garland
or a bride in her jewels.
As the earth puts forth her blossom
or plants in the garden burst into flower,
so will the Lord God make his victory
and renown blossom before all the nations.
For Zion's sake I shall not keep silent,
for Jerusalem's sake I shall not be quiet
until her victory shines forth like the sunrise,
her deliverance like a blazing torch
and the nations see your victory
and their kings your glory.
Sunrise now comes one minute earlier each day and sunset is delayed by two minutes daily. In no time the daylight will surpass the dark. Let's live today as people of the light, lifting eyes to God, reflecting the light to everyone we meet.
May Goodness find you today!
Cheryl Montgomery